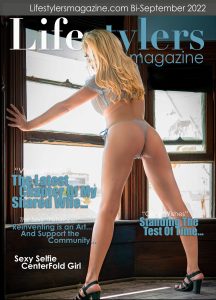 My wife (we'll call her Jane) and I (let's say John) have been in the Lifestlye for about two years now with many different experiences, firsts and adventures. We have more or less found that the Stag & Vixen dynamic of HotWifing, specifically MFM, works for us the best. This latest chapter of our shared wife life together happened on a planned weekend get away to a destination on the Gulf of Mexico, where we met with a new photographer named Brad. We had discussed that we wanted a sexy, boudoir type of shoot. I had told Brad that we were in the Lifestyle and had asked if that was alright, I surely did not wanting him feeling weird with "the husband" being there as he directs, and takes pictures of my wife. He apparen tly was in the LS as well, as a single male. The stage was now set for the play to begin.
We meet Brad for an early lunch at a busy, yet laid back patio style seafood restaurant right on the water. We all made our introductions, ate and had a few drinks to loosen up. The whole time, Jane was eyeing him as if he were prey swimming around in the sea and she, a starved shark looking for its next victim. She would give me glances the whole time with a flirty, almost starved look in her eye. I could tell what she was wanting. On our way from lunch to the shoot location we discussed it in the car, with me saying, "So, how badly do you want him?" I was met with a blushed smile and long, batting eyelashes and her sweet voice saying, "I want to fuck the hell out of him". Instantly I felt myself start to get engorged, which she noticed and started rubbing my throbbing cock over my pants as we pull up to an incredible mansion for the shoot. I calm myself down; we get out and see Brad hauling all of his equipment inside.
The mansion was a Victorian era manner from old. It was the type of place that screamed- aristocratic 20th century Southern money. It had gone up on the market after years of neglect and Brads friend had bought it in the hopes of remodeling and flipping it, hence our ability to shoot there. The house was elegant, quaint and felt of an age past; it was breath taking to say the least. Once Brad had all of his equipment set up and I had all of Jane's outfits laid out, Brad and I both dropped our jaws as she nonchalantly stripped down naked, asking which outfit for the first shoot. The ray of sunlight peaking through the window was shining on her enhanced 34 G cup tits, along with her tight and toned body. Standing at 5" 8" and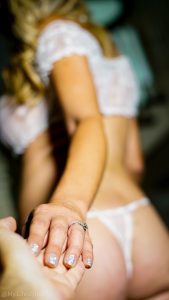 weighing 130lbs, her shaped and sculpted legs go for a miles. When she started getting on outfit number one, I met Brad's eyes and gave him an approving nod and said, "so long as she is okay with it, move her into whatever position she needs to be in". He responded with a big, eager grin and saying "I think I can do that". Once she was dressed and in position, Brad did his thing; shooting, moving around to get the right angles, adjusting the studio lights on tripods and then, he finally got the courage to move her. He came up behind her and almost sensually, grabbed her leg and repositioned it. I noticed his hand gently sliding up to her mid thigh as he pulled away. When he was walking back to his camera, Jane looked back at me with the most flushed face and biggest grin and winked at me. I could tell that move alone made her dripping wet. This went on for a few hours, the outfit changes, room relocations, set up, tear down, and above all, him moving her body around, as they were both growing more comfortable with each other. The shoot finally came to an end and I took it upon myself to ask Brad if he wanted to meet for dinner and drinks at the tiki bar that our ocean view hotel had. He of course said yes and with that, we shook hands and Jane gave him a very close, almost grinding type of hug with a grin on her beautiful face before we all departed the gorgeous mansion.
After everyone had showered, changed and was ready for relaxation for the evening, Jane and I went down to the bar and had some drinks. It being a tiki bar on the water, swimsuits were acceptable, so naturally Jane wore an extremely skimpy, micro bikini with a sheer cover up around her waist. Soaking in the cool, salty ocean breeze as the sun was setting, thinking about how incredibly sexy she was with her body all afternoon and waiting for Brad to show up; I couldn't help but think what a great day it was. After Brad arrived and we all ate a light dinner and had a few more drinks, I noticed that Jane's arm was reaching over to Brads lap under the table. We locked eyes as she was rubbing him and she winked at me, I winked back and smiled at her. Brad saw this, and apparently remembering the approving nod I gave him earlier in the day, I saw his arm reach over to Jane's lap. With the table in the way I could not see exactly what they were doing to each other, but it was apparent that they were both thoroughly enjoying it. The bar closed down early, around 10pm since it was a restaurant as well, so Jane asked Brad if he wanted to come up to the room, as we had additional drinks up there. She barley got the words out of her mouth before he responded with "absolutely!" He was parked on the main street and had to pull around to the hotel parking lot, Jane said that she wanted to ride with him. I naturally didn't want to miss out on anything so I rode in the back seat, as she got in the front passenger seat. No sooner than all the doors were shut, she was leaning over and sucking his cock as he pulled around to the parking lot. Once parked, I gave them a moment to continue before clearing my throat. Jane popped up with a smile and kissed Brad before we all got out and made our way inside.
Once we were in the hotel and made our way to the elevator, I found that the short ride to our floor was… invigorating. Four different hands were all over Jane's pristine body in her revealing swimsuit. We got to our room, and the clothes could not come off fast enough with those two, Jane and Brad immediately embraced each other's naked bodies, kissing and caressing. I said that I'm stepping out to get some ice for the drinks. As I come back into the room, the unmistakable sound of two palms clapping together was almost deafening. Once through the entrance way, I saw Jane on the bed with her legs up over Brads shoulders as he was laying horizontal on her, thrusting all of his weight into her. Her moans were filled with notes of both slight discomfort, due to his penis size; and pleasure, due to his penis size. She was being stretched out, learning to be able to take all of him, down to the base of his hard cock. She looked at me, as I started to undress myself with I'm sure was a devilish grin on my face, and she smiled… and moaned. She started talking dirty to him. Repeated phrases such as "fuck this dirty cock slut, yes daddy, and give this married slut all of that hard cock" were pouring from her full, pouty lips.
I gave them a few more moments fuck the built up passion out of each other before stepping in, and Jane took me in her mouth as Brad plowed her as hard and as deep as he could. We then switched positions, and she was sucking and licking all of herself off of him as I was "reclaiming" my beautiful and amazing wife. She squirted all over me from her sweet, pulsing vagina. Jane then got on her knees and took us both in her mouth at the same time, then back and forth, edging us both to point of cumming. Almost as if she sensed it, she stopped, not wanting her night to be other with just yet. She smiled with a dirty yet pleased look on her face and got back up on the bed on all fours, offering whichever one of us wanted her next. The back and forth, oral and vaginal "spitroast" game on Jane was played between Brad and myself for quite a while. I would get winded and take a break while enjoying being able to watch my wife be free with our mutual trust and understanding.
Eventually Jane cried out "I want two cocks inside of me"! Brad and I looked at each other and both nodded. We are both straight men, but when a woman who is that insatiable wants you both at once inside of her sweet and wet pussy, you do it for her. This sweet, loving, smart and sexy woman was getting double fucked with Brad on the bottom, her straddling him, and me behind her. The sounds that she made were not of a familiar tongue, but instead, one that only can be understood in the moments of pure and utter ecstasy. She bucked and rode as hard as she could. She was living her life to the fullest in these moments of pleasure. As if in a porno shoot, we could all sense the feeling of climax and Brad moaned as his hard cock throbbed deep inside of her, filling Jane with his cum. She offered a long and thankful moan in return while kissing him as I kept pounding her form behind. I pulled her off of Brad, and she instantly bent over on the edge of the bed, offering her cum filled pussy to me to continue fucking, as she licked and sucked all of both her and Brads load off of him. I could not hold it anymore and told her "On your knees baby!" with a sense of urgency and baritone in my voice. Jane immediately dropped to her knees off the bed as I let loose multiple streams of cum, covering her face and running out of her mouth. She couldn't help but to suck all three of us off my still throbbing cock as we all were calming our bodies down with deep and deliberate breaths.
Once we all cooled off, and caught our breath we all showered and got cleaned up. After we dried off, I blurted out, " I'm not sure about y'all, but I sure could eat", they both laughed in response and said "me too". A Denny's 24 hour dinner was around the block, so we drove there and everyone indulged in greasy, carb loaded, full fledged meals; forgetting all of the light food of earlier that we all ate in the fear of bloating or over eating, as this was no longer a concern to anyone. There we found ourselves in a booth at 2am with no awkwardness or jitters, just three adults who had a great time and who desperately needed to replace some lost calories. It was quite a way to end our adventure, as the next morning was checkout and back to reality. In this moment I realized that this was one of the best LS experiences we've had. It was… amazing. It was not of the fantasy LS encounters that we've all read, or the cheap pornography with corny story lines. This was real, albeit somewhat surreal; from the seaside meet up, shooting in a once in a lifetime location, drinks at a tropical tiki bar at sunset, the phenomenal sex, down to cheeseburgers. I knew that we had all fulfilled Jane's weekend getaway.